Guide to Winter Mountain Running
Dave Sarkar, qualified Mountaineering Instructor and co-editor of the Gear magazine Climbing Gear Reviews page takes you through everything you need for going running in the mountains in winter.
I'm not a competitive runner, but I've always run. I run mostly to be fit for my climbing and to keep my weight down. Over the last few years, however, I've been running for the sheer love of it, the movement and the health benefits. I even enjoy road running! It has to be pretty wet though (or a recovery run) for me not to choose to run on trails or through the mountains. I'm not some super athlete, I'm a 55 year old dad who was once quite good at rock climbing but whose focus has changed - it's now about longevity and being fit and healthy enough to continue climbing and running into my 60's, 70's and beyond. Running through the mountains is a big part of that and running in winter an even bigger part.
Why would you want to run in such a hostile environment?
Winter in the UK uplands is very harsh, even if it isn't snowing the temperatures can be below freezing; the wind seems to cut through every layer you have on, your hands feel like blocks of wood and every rock you land your feet on seems to be covered in slime. But on that special day, when the wind is at your back, you're running along a plateau, the clouds roll back and the sun shines on that white neve (snow that has thawed and refrozen), which gives awesome friction and you just seem to glide over it; those are the special days and worth every bucket of sweat to achieve. Mostly though, winter running in the mountains involves a lot of sweat, gnarl, pain and suffering - oh and getting wet!
So now I've persuaded you of the joys of running through the mountains in winter (haven't I?) what do you need to know to get yourself into it? Well, it is very different to summer as you can imagine, with the weather being your main opponent. It can change in an instant with very little warning and no amount of weather forecasts can guarantee you the weather you've seen on your laptop or phone screen. I have found that the MWIS (Mountain Weather Information Service www.mwis.org.uk) offers the best forecast for UK mountain conditions. They've been doing it for many years and have a great team of forecasters who work closely with the Met Office. So for planning I use MWIS and then I use the Met Office app for more up to date information on the day and by the hour if needed. Still, I have lost count of the times I've cursed the Met Office when I'm looking at the sun/ cloud icon on my phone in the rain! So that brings me onto what you should be aware of if you are thinking of venturing out into the mountains this winter.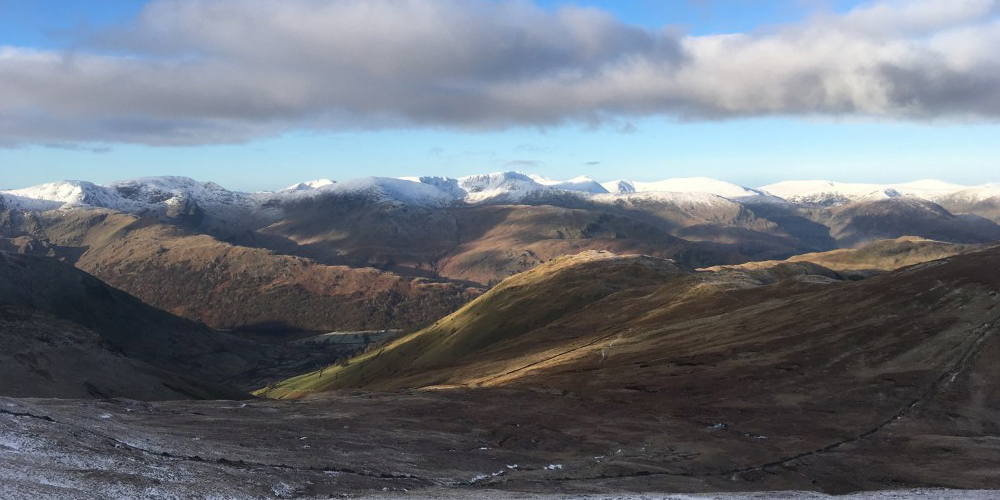 Navigation
You should never go out into the mountains (in summer or winter) without the ability to navigate competently using a map and compass. A quick look at the Mountain Rescue stats will highlight what happens those who do venture out without that ability.
The fact that we are out running, moving light and carrying minimal kit means that we need our day to go smoothly and knowing where we are and where we are going is the difference between an enjoyable and challenging experience, as opposed to having an epic. Don't get me wrong, I use my phone for location all the time and I also use it to help me know that I'm going in the right direction but I don't rely on it. I know, from bitter experience, that that leads to it dying when I most need it so it usually stays on aeroplane mode and I only get it out when I need it. That means most of the time I've got just my map and compass out, which I've printed off from my OS Maps subscription onto waterproof map paper.
I've also found the BMC Mountain maps very good (but I like to have 1:25000 as it ties in with the maps on my phone). For a compass I use the Suunto Arrow 30, it's a good compass which works brilliantly (I have three top of the range Suunto compasses but this is my compass of choice for personal use).
I also have a Suunto Clipper Compass permanently on the sternum strap of my pack as I often don't need the full compass and just want a quick north bearing so I can orientate my map and choose which path I need to take. It's also a good idea to have all your critical directional bearings drawn on your map with permanent marker so you can just set the compass and go.
Clothing & Packs
Winter running poses more demands on our clothing systems than in summer. That said we are running so we don't need to take all those extra layers we might take on a hike. Versatility is key and layers which we don't need to be taking on and off all the time work best.
Top & Bottom
My preference is for a good pair of winter running leggings. I'll then have a good quality pair of boxers under them and a pair of shorts over the top of the tights. That won't keep the wind out though, if you want to be more windproof I would suggest a pair of Gore Windstopper tights.
On my torso I have a winter weight thermal. I'll start the run with that on and probably get quite hot when I start going up, as the wind gets up (which it often does) I'll then pop on a windproof jacket, I love my Arc'teryx Squamish and prefer it to the Incendo as it's more of a mountaineers windproof and a little thicker. I always make sure to preset the hood at home so that I'm not having to faff around when that wind blowing me around on the summit.
I will also have a superlighthardshell in my pack for extra protection against hail, rain and horizontal snow. This will be in my pack most of the time though, if I've planned my day right of course! I'm not one for carrying waterproof pants, although I do use the Montane Minimus pants if it's forecast to snow hard.
One item of clothing I never skimp on for winter is a decent insulating jacket. For UK weather, I always opt for synthetic fill as our weather is too damp for down. I'm not saying a full on Scottish winter climbing belay jacket is needed, but it does need to be good enough to keep you warm when the proverbial hits the fan. Also, it's nice to have a warm layer when you stop to take in the awesome view for a few minutes. I know that some might feel that it takes a lot of room up in the pack but I prefer to have that safety margin. Hobbling down with a twisted ankle takes a lot of time - you might as well be warm!
Extremities
Other clothing essentials to consider are gloves (I like 3 pairs in winter); 2 pairs of Rab Silkwarm and a pair of Hestra Ergo Active Grip are my gloves of choice. This works out as a pair to warm up in, the Hestra for the summit run and a dry pair for spare or to use on the way down. I also like a nice lightweight hat or even a headband. Merino may be a little warmer but will not dry as quickly as PowerStretch. For socks I like to wear compression long socks if the weather forecast is dry and ground conditions are likely to be good but for snow or wet ground I'll wear waterproof socks as well as Gore-Tex shoes.
Shoes
Talking of shoes, ideally they need to be a little stiffer that a normal running shoe so look for a more specialist shoe. Arc'teryx have been making great inroads into the trail running shoe market and the Norvan VT GTX look brilliant with their climbing and scrambling ability. Why stiffer? Well for some of the day you may need to be wearing spikes or even lightweight crampons (if you are planning to get into some steeper ascents/descents).
Also remember that snow will get into shoes easily so you'll need a set of gaiters to keep your feet drier and warmer (they will never be completely dry). For winter I'm not a fan of the sock type gaiter as I've trashed them after only one run so something a little burlier like the Rab Scree Gaiter is better. You only want a short gaiter as it's more breathable and I find a full gaiter is too hot and cumbersome.
Pack
I use a 15L pack if I need more I'll add a belt. I've been using an Ultimate Direction Fast Pack 15 with a Salomon Advanced Skin 6. There's also the excellent Inov8 All Terrain Pro Vest, this has the advantage of the main pack being removable so you can use it as a normal race vest for lower level trail running. The most important thing is that the pack doesn't sway around or move on your back. This may be a bigger and heavier pack that you are used to carrying so make sure it has plenty of shock cord and compression straps to keep everything tight in the pack. The Inov8 All Terrain 3 looks a nice waist pack and it can be worn either at the front or the back. I like to keep some liquid, a few bars and my wind proof in my waist pack if I'm using one and I'll take it if the weather looks iffy and I need to pack more.
That covers the clothing essentials as well as a pack - all super light and compressible. I'll also spend many evenings looking at how it all packs together and how I can access it when needed. The secret to clothing is anticipation, it's no use trying to put that extra hardshell on when a gale is blowing on the summit; stop for a few minutes just below where it's calmer and put it on then.
Hardware - Crampons, Axes, Heatdorches, Poles and Watches
So, we've got our feet sorted out let's look at covering steep ground. The big question is crampons or spikes? If you are just beginning to get out into the mountains or lacking in experience I would say stay away from steep ascents and descents and just aim to get out on less demanding terrain - in these cases spikes will work well. The Kahtoola Micro Spikes are ideal as they are lightweight, are easy and quick to fit and take up little pack space. They are also useful for verglassed rock and path as well as steep grass.
Crampons & Axes
Crampons are only suitable for steeper ground and the more experienced, they don't work well with running shoes as the sole is too cushioned for them to work effectively. That said the Kahtoola KTS Hiking crampon would work as they are amongst the most flexible crampons.
On top of that you shouldn't be venturing out into the mountains in snowy conditions without an ice axe. I like a nice light one, but not the lightest you can buy. UK mountain conditions are very different to Europe, the snow is often shallower with rock or grass under or it is bullet hard, so I prefer a slightly heavier weight one.
The vast majority of your runs will have the axe stowed away. If you want to look like a pro then stow your axe through the haul loop (the loop at the top of the pack that is sometimes call the grab loop) and diagonally through the back. That way when you need to deploy it you can pull it out just like a samurai warrior! Remember to have a spike protector on - I've also used a bit of hosepipe to cover the whole pick (which is safer as well as cheaper).
Headtorch
Other items that you will need to pack are a decent headtorch, it's an absolute pain to have to use a sub standard headtorch when you're on technical ground in darkness. I used the Petzl NAO for a few years until I eventually found it a little too cumbersome (although the power was awesome and blinded everyone I looked at). For the last couple of years I've been using the Petzl Reactik+ which has been much better. I keep a spare Reactik battery pack which I use with AAA Lithium batteries, it's lighter than a dedicated rechargeable battery pack.
Emergency
I always like to have a lightweight emergency bag and a tiny first aid kit too - the new Rab Ark is amazing (although I never plan to use it!) way lighter, and warmer than a standard orange bag (although it's still orange) and at 105g there's no excuse to not carry it. First aid wise I carry an Adventure Medical Kit .3 which is the lightest kit in the range but I've added a stretchy crepe bandage to mine which is a super versatile piece of kit to have.
Poles & Watches
Poles - I'm a huge pole fan and have been using the Black Diamond Distance Carbon for ages. The only problem with these is that you can't have snow baskets on them but that's a small price to pay for the compact and light nature of these great poles.
Watches - I personally prefer a tracking watch to using my phone to record to Strava as every time I've used that in the mountains my phone has died within a couple of hours. That combination of continual use, cold and damp seems to kill my iPhone with astonishing regularity! Remember that with a watch you will need the skill to convert a grid reference to where you are on a map as a watch will not have good enough mapping to do that for you.
Facewest stock a great range of Suunto watches for most budgets and I would suggest a modern tracking one with a HR function so, like me, you can monitor your whole life! I would also recommend a chest HRM over a wrist HRM as that will give you some added metrics and is more accurate at reading your heart rate.
That just about covers it, with all that kit you should be fine for a day out running in the mountains, whatever the conditions throw at you. Remember that you should be able to get it all in a small day pack that cinches tight to your body.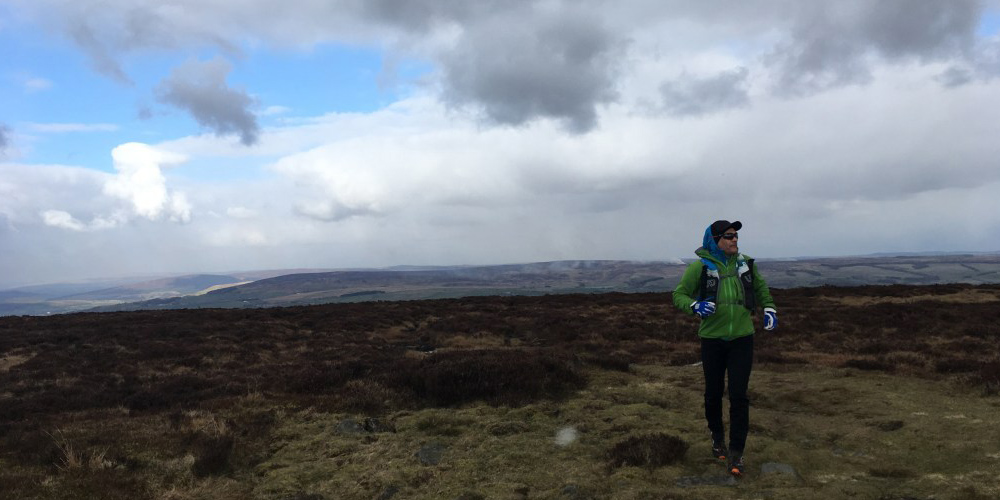 Other Stuff
I haven't discussed food and drink (I'm a M&M's, cheese and jelly baby man with a small amount of hot drink in a 500ml Nalgene bottle - I'll top up at streams when I'm thirsty). No kit however will be a substitute for good general fitness, a weird love of suffering and pain but when it all comes together running through the mountains will be some of the best runs you will ever have.
Remember the training mantra - consistency (get out into the mountains as often as you can), gradualness (build your experience up gradually and over several years) and modularity (short periods of training and trips to the mountains to see how you are improving).
Happy adventures,Dave
Dave Sarkar has over 30 years of experience in the UK mountains and beyond. He is a qualified Mountaineering Instructor and co-editor of the Gear magazine climbinggearreviews.com. He lives and climbs in Leeds and you will find him, most often at his spiritual home -Almscliffe Crag or running over the Yorkshire Dales.
Find more gear and clothing reviews at Climbing Gear Reviews page.