By Olly Allen, Mounatin Tracks guide.
The equipment you carry for Summer Alpinism is always a thorny subject with a vast array of technical equipment and clothing on offer to baffle the budding alpinist. During the summer months in the Alps the temperatures can range from plus 30 to minus 20 so you need to bear this in mind. What ever you choose you'll still be Shivering on the north face of the Eiger or sweating buckets crossing the Trient glacier in the mid day heat! Just remember 'light is right' until you have an 'Epic' then its just downright cold and uncomfortable.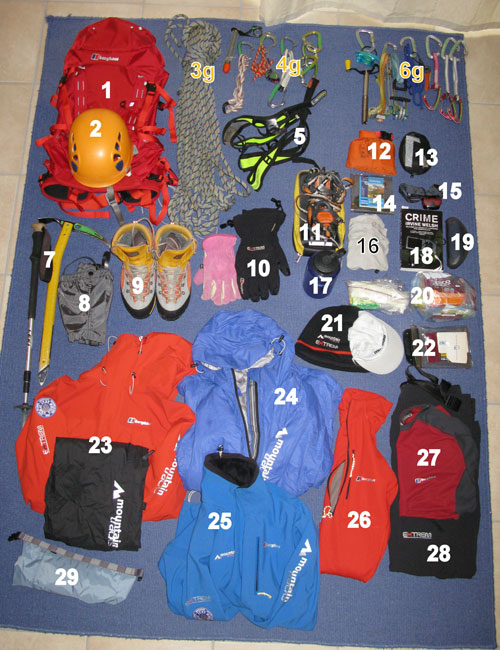 Above is a picture and below is a complete list of the equipment that you would probably want to carry, with some selection tips. Click on the item header in the list to see the Facewest production selection. Items with '(Guide)' next to them are those that would usually be supplied and possibly carried by your guide, if you have one.
3. Rope (Guide)
The guide (if you have one) will carry a full weight rope of either 30m for easy routes or 50m for more technical AD terrain.
4. Crevasse Rescue Kit (Guide)
An array of shiny bits to effect a crevasse rescue. This item is covered further in another article.
6. Technical hardware for protection (Guide)
9. B2 Boots
B2 is a grade given to the rigidity of the sole. All boots within this grade are compatible with articulated crampons with straps or a combination of strapped front and clip-on heel. Boots should also be waterproofed and well worn in.
10. Warm ski gloves
I carry a thin pair of leather gloves also used for Via Ferrata and some warmer ski gloves.
11. Crampons
Make sure they are compatible and well tested with your boots. I favour steel strap on crampons (Petzl Irvis 10 pointers or more technical Vasak 12 pointers) for most alpine routes up to TD as there very comfy for walking in. Don't forget a crampon bag!
13. Compass and a spares kit for mending crampons and kit (duck tape, cable ties, thin wire)
14. Map in a waterproof case.
15. Small Head Torch
16. Hut Kit (for multi day trips), Toothbrush, Ear Plugs, Wet wipes, Sun/Lip Cream, Book, Ipod
I have some wet wipes, tooth brush and paste (travel tube), ear plugs (essential) and some high factor sun cream and lip block.
17. Water bottle
Leave your camel back at home as they are a pain and end up freezing or leaking, either get a proper polycarbonate bottle or use a disposable mineral water bottle to carry about 1.5 litres.
18. Book and music
In the hut it's nice to have a book to read and an Ipod.
19. Sunglasses
Wrap around style or with side pieces
20. Food, T Bags, Milk Powder (brew kit for multi day trips)
It is cheaper to buy hot water in a hut and brew your own tea than buy it from them and the only way to get 'Yorkshire Tea'. Snack food is a personal thing but I usually take some cereal bars, dried fruit, nuts, chocolate and jelly sweets.
22. Waterproof Container with Money, Passport, Cards
24. Light synthetic duvet jacket
25. Windproof Soft Shell Jacket
26. Thin fleece
27. Thermal T Shirt
29. Light Waterproof stuff sac
To put your clothes and other little bits and pieces in. A great aid to keeping your pack organised.
There's a bewildering amount of performance clothing on the market, I am sponsored by Berghaus so it's no surprise that all my clothing comes from them. Most of the clothing out there from reputable brands does work. It's just a matter of getting the right mix of garments and fabrics that work best for you. Some trial and error is inevitable. I have a set of GoreTex Pro waterproofs which are light yet durable ( I may take GoreTex Paclite if the forecast is good and I'm not going near any rocks!). Buried inside a dry bag in my sac I'll have a light synthetic insulated jacket, fleece type midlayer and a woolly hat and sun hat. Then depending on temperatures I wear some soft shell trousers, a technical T (long sleeved if it's a cold forecast) and a windproof soft shell jacket.
This should have shed some light on the mystical art of packing your rucksack for an alpine trip, remember heavy and spare stuff at the bottom and light regularly used stuff at the top or in pockets. This is not exhaustive list and it may have to be beefed up slightly if it's a mega cold forecast or you're going high (Mont Blanc). Some people feel the cold (me) and others could do Mont Blanc in jeans, T shirt and fingerless gloves! (Matt Dickinson). This list is a good starting point which you can refine as you gain experience.
---

Olly Allen is a fully qualified UIAGM guide, member of the BMG (British Mountain Guides) and one of the directors of Mountain Tracks Guiding Company.He has 20 years of climbing, skiing and mountaineering experience in every region of the world. Occasionally, when we can get hold of him, he writes useful information and product reviews/recommendations for us at Facewest.By working with Olly and other experienced mountain professionals we hope to keep the product range at Facewest bang up to date.