Gore Tex Fabrics Explained
See also: How to Choose a Membrane
All Gore-Tex products are made with a Gore-Tex membrane sandwiched between a face fabric and an inner layer. The face fabric provides protection and can be made from different materials and thicknesses giving the brand using the membrane options on how the want the final garment to perform.
There are 3 Gore Tex waterproof membranes. Gore-Tex, Gore-Tex Pro & Gore-Tex Active. There is also Gore Infinium, which is windproof, but not waterproof. This article will explain the different constructions and uses of each of the membranes.
Gore-Tex ePE - Sustainable PFC-Free membrane.
Gore-Tex - Great breathability which is tough, light and durable.
Gore-Tex Pro - Built for maximum durability and protection.
Gore-Tex Active - Breathability and weight optimised at the expense of durability.
Gore-Tex PacLite - Low bulk and small pack size optimised over durability.
Gore Infinium - Completely windproof and weather resistant softshell membrane.
2 Layer, 3 Layer?


Construction
The Gore membranes are made into different constructions to give better performance in various areas, those constructions are detailed below. Gore-Tex is available in all 3 constructions, Gore-Tex Pro and Gore-Tex Active are only available as a 3 layer construction.
| | |
| --- | --- |
| 2 Layer | 2 layer construction is where the membrane is bonded to the outer fabric only. This means that the lining inside is separate and can move freely, this improves wearing comfort and versatility and means that the membrane can be used with insulation. |
| 3 layer | 3 layer construction is where the Gore-Tex membrane is bonded to both the face fabric and the inner lining. The advantage of this is increased durability as the layers can't move against each other. Though it does give the garment a harder feel. |
| Z Liner | Z liner construction is bonds the membrane to a lightweight fabric, a liner is then freely suspended between the outer fabric and the lining. This construction means that there are fewer sealed seams which gives brands more freedom in terms of the design of the garment. It also allows the membrane to be combined with insulation. |
Versatile Construction


GORE-TEX Membranes
There are multiple versions of the GORE-TEX Membrane with a range of applications depending on the intended use of the final garment. From rugged and durable to light and packable, clothing brands will select the right membrane for their garment. The type of GORE-TEX used will be described on our product pages.
Sustainable PFC-Free


GORE-TEX ePE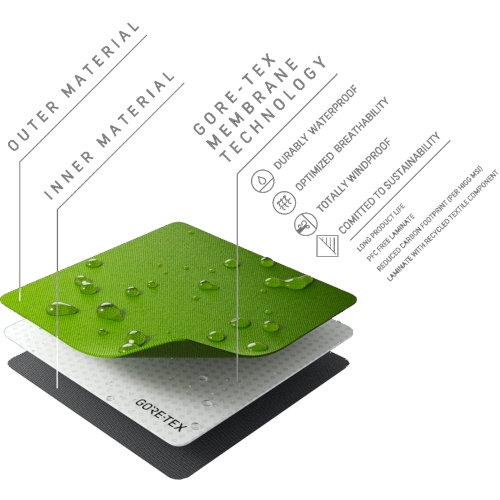 GORE-TEX EPE is Gore's new Expanded Polyethylene waterproof membrane. The new membrane is totally PFC free and produced with a lower carbon footprint than other GORE-TEX membranes. It is combined with a recycled nylon or poly outer fabric. One useful attribute of the new membrane is that it is thinner than normal ePTFE GORE-TEX, giving it a softer and more supple feel (less cardboardy). The new chemical DWR treatments used on GORE-TEX ePE garments will also be totally FC free. The down side of this is that you will need to re apply DWR treatments much more regularly to maintain the nice beading effect, don't worry though if your jacket is no longer beading water it is still waterproof.
The Original 3-Layer


GORE-TEX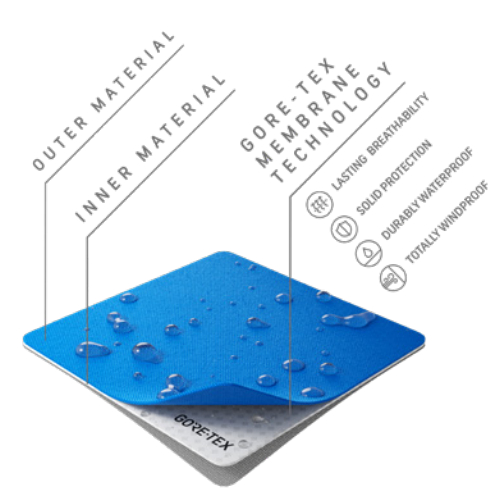 The Gore-Tex membrane is very versatile and is used in 2 layer, 3 layer, z liner constructions as well as being able to be combined with insulated garments. This means that it can really be made into clothing suitable for any activity whilst retaining the Gore-Tex standard for a durable, waterproof and windproof piece. The diagram shows the outer fabric which is bonded to the Gore-Tex membrane. Below the membrane is a Polyurethane (PU) coating. This protects the membrane from dirt and oils which would damage it, but before it will allow the membrane to work it has to be wet. This means that a Gore-Tex garment will not start breathing until it has been worn long enough for a small amount of water vapour to reach the inner of the membrane. This isn't a major issue as you don't necessarily need the garment to start breathing until you've worked up some heat anyway.
Most Rugged And Durable


GORE-TEX PRO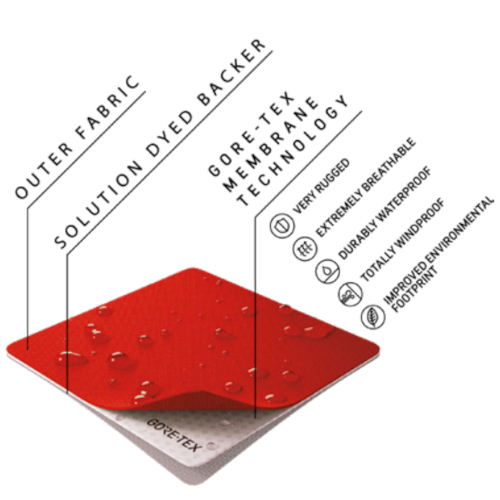 Gore-Tex Pro is built for maximum durability and is therefore ideal for prolonged use in tough conditions. The diagram shows the Gore-Tex Pro membrane bonded to the face fabric and a Micro Grid backer fabric. This is the secret to Gore-Tex Pro - it doesn't use a PU membrane, which means that it doesn't require the membrane to be wet before it starts to breathe, increasing performance. The Micro Grid backer fabric is also exclusive to Gore-Tex Pro and it gives less internal abrasion and snag resistance, whilst improving breathability and decreasing weight. It also allows the garment to slide easily over mid-layers and feel more comfortable on skin.
Most Breathable


GORE-TEX ACTIVE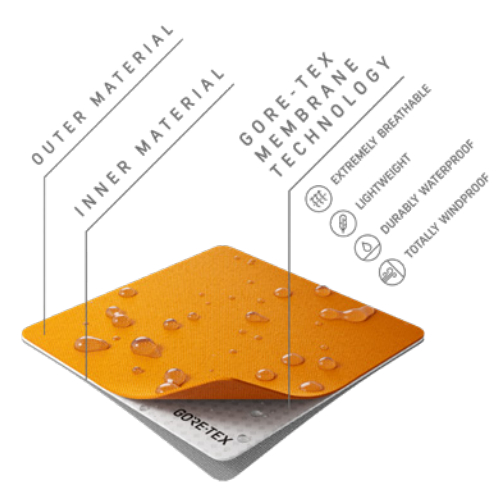 Gore-Tex Active is for those who value breathability and light weight above all else. It is a thin and light version of Gore-Tex and the result is improved breathability and a lighter weight garment. Like Gore-Tex Pro it is a 3 layer membrane, however as it has a thinner and lighter construction these garments will not be as durable as Gore Tex and Gore Tex Pro. The diagram shows that the lining fabric is incorporated into the PU coating, this allows the membrane to breathe faster and more easily than standard Gore-Tex. It also makes it more comfortable against the skin and so better for activites where fewer layers are likely to be worn.
Most Packable


GORE-TEX PACLITE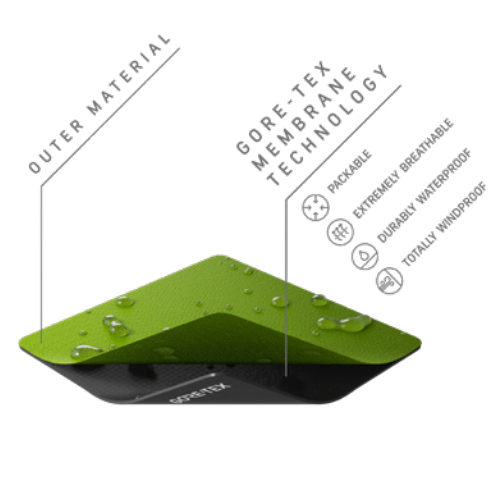 Gore-Tex products with Paclite technology are garments which have been specifically designed to be lightweight and packable - perfect for that waterproof which you always take with you but rarely ever wear. The garments still feature the same Gore-Tex or Gore-Tex Pro membrane but utilise much thinner lighterweight fabrics to achieve a lighter, more packable garment. This construction does come at the cost of durability. Both Gore-Tex and Gore-Tex Pro membranes can feature Paclite technology.
The Ultimate Protection From Cold Wind


GORE-TEX INFINIUM
Gore Infinium replaces the popular Gore Windstopper membrane. The Infinium membrane sacrifices the waterproofing in other Gore-Tex membranes in favour of a much higher level of breathability. The membrane is still totally windproof so garments incorporating Gore Infinium make great mid or outer layers for high output activities in cold conditions. You will find Gore Infinium in softshell gloves, jackets, trousers and hats. These garments will all prioritise breathability and stretch but will still offer protection against all but the worst conditions.