Description
The Arcteryx Alpha SV Jacket is the ultimate GORE-TEX waterproof mountain shell providing the toughest of barriers against the severest weather. It has ultra tough 100 Denier face fabric for total dependability and excellent durability. The Alpha SV Jacket has a regular cut with e3D, ergonomic 3-Dimensional patterning, designed to enhance a greater freedom of movement.
Most Rugged 3L GORE-TEX Pro 2.0 is the toughest and most durable waterproof fabric in the Gore-Tex range. Manufactured with an extra polyurethane element in the membrane to its lifespan and make it more abrasion resistant. It has been constructed for intense activity that may include frequent stops providing the high levels of breathability and abrasion resistance required by the climber, mountaineer or ski tourer.
The Alpha SV Jacket is secured with a tough Watertight Vislon zip, these heavier zips are easier to use especially with gloves on. The helmet compatible StormHood can be drawn in with just one hand, battening the hatches down but if the weather is poor and you're working hard, ventilation can be provided through the underarm pit zips. On either side of the hem is a HemLock insert that holds the jacket comfortably under a climbing harness and prevents it from riding up.
Arcteryx Alpha SV Jacket Features
N100p-X Most Rugged 3L GORE-TEX Pro 2.0
Helmet compatible StormHood
Watertight Vislon front zip
2 WaterTight zipped volume pleated chest pockets
1 WaterTight zipped left arm pocket
1 internal zipped security pocket and 1 internal dump pocket
WaterTight pit zips
Cohesive hem adjusters that also work as HemLock
Fit:

Regular with 3eD, hip length. Centre back 78cm (size M).

Weight:

510g
Video Content
Size Guide

Arc'Teryx Men's Jacket/Shirt
Your Body Measurements in Inches:
| Size | Sleeve | Chest | Waist |
| --- | --- | --- | --- |
| Small | 33" | 38" | 32" |
| Medium | 34" | 40" | 34" |
| Large | 35" | 43" | 37" |
| XL | 36" | 46" | 40" |
Pro Review
Dave Sarkar of Climbing Gear Reviews reviews This years Alpha SV.
I remember buying my first Arc'teryx Alpha SV, I bought both the jacket and pants second hand from a friend (there was no way I could afford a new one). I thought I'd hit the big time and the jacket lasted me nearly five years before I resold it on. It still had plenty of life left in it and fetched a great price. That's the pull of the Alpha SV, a totally bombproof jacket that should feel like you have retreated to the mothership when you put it on.
So, you can imagine my excitement when one of the new redesigned models became available for test. The Arc'teryx Alpha SV is still a highly desirable, fully featured and bombproof hardshell jacket. The 3 layered Gore-Tex Pro material has proved highly water and abrasion resistant throughout the test period and the jacket has become my go to shell for winter climbing. I have lighter and more compressible jackets but the Alpha SV is like wearing amour, when I put it on I feel like I'm totally ready for action.
As you would expect from a premium garment and a high end company, the Alpha SV doesn't come cheap; at £600 you might wonder why you would buy a jacket that is the price of a week's Alpine Ice Climbing. Well, I think that in an age of super cheap kit that is next to useless the Alpha SV shines through as a bastion of high quality that will last you (as long as you look after and maintain it of course) for years of abuse. So, consider it an investment in your comfort and therefore safety.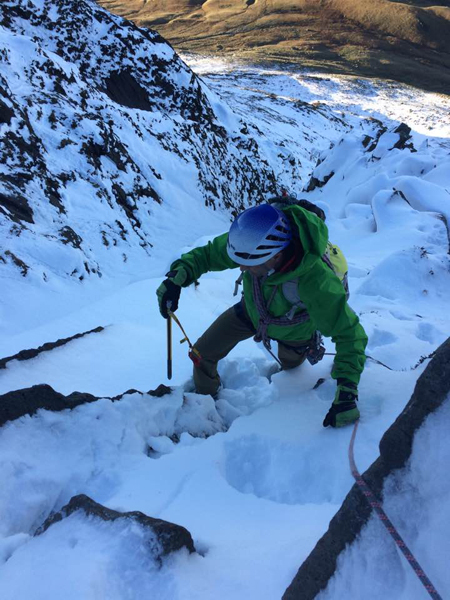 Let's take a closer look at the features and fit. Firstly the fabric: the Alpha SV is made from Gore-Tex Pro which is the top of the range Gore-Tex membrane. The N100p-X 3L membrane proved very breathable, in truth it's not the sort of jacket you might wear on the walk in in normal conditions, it's just too warm. The DWR is excellent and uses the new generation C6 PFCs which are a huge reduction in toxicity from the C8 PFCs.
Then the features: there are pit zips, which are nice and big so will offer plenty of ventilation if needed. I tended to carry the jacket into the base of the climb and then don my amour for climbing. The jacket felt breathable enough for me to feel dry as soon as I geared up and began to climb. I then felt comfortable through the day and only felt the need to put on a belay jacket for extended periods of belaying. Generally a good baselayer and my Arc'teryx Fortrez midlayer together with the Alpha SV have been a great combination. If the weather looks colder I wear a light synthetic vest and that increases my warm level. With this combination I have found that for most UK winter conditions I can carry a lighter belay jacket so have been using the Arc'teryx Nuclei AR and for lighter conditions my Nuclei FL.
The fit is generous in sizing, I am a size medium and the Alpha SV fits over everything I have on and still feels like it could accommodate more. This is great for winter climbing but can feel a little baggy for Alpine rock. One of the great comforts of the jacket is extra bit of length in the body, again perfect for those gnarly winter sessions when there is nothing more annoying than your jacket coming out of your harness waist - I have had this happen before, especially when squirming about in a Scottish chimney. The Arc'teryx Alpha SV has had some redesigns in the cut and the articulation in the arms is excellent, it doesn't look radical but is just enough to offer great movement with the arms rising at the wrists when your arms are over your head. This meant that when I tucked gloves under the velcro wrist tabs the arms stayed in position. Sometimes though I want to near gauntlets and the wrists tightened close enough for them to slide over the wrists nice and easy.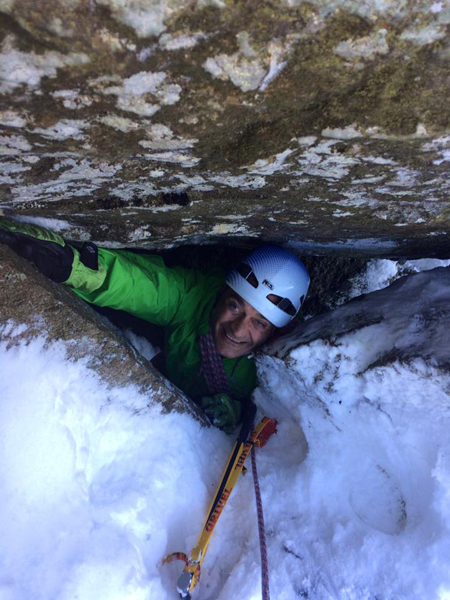 That's not to say it's any heavier than previous versions, the redesign shaves weight off so the jacket is lighter than previous versions. The trusty CGR scales weighed the jacket in at 499g and the stated weight is 490g. Other significant features are the water tight YKK zips on the pockets - these are like YKK Aquacoil PLUS zips and have an extra coating to help keep out the elements and the main body zip is a good, chunky YKK Vislon zip that is the usual pull apart type of zip that Arc'teryx use on all jackets. Be warned that although this type of zip is great for ventilation, strong winds and heavy spindrift can open the jacket if you leave it undone! And talking of pockets the Alpha SV keeps it's Alpine credentials by placing the pockets firmly above the harness line and opposite hand accessible. The pockets are plenty big enough for everything you feel you might need to put in them on the belay or the descent. Gloves, maps, compass or topo they are nice and big but can't be used for keeping your hands warm, unless you cross your arms. There is also a ski pass pocket on the left arm and an internal zipped pocket to keep small items you want secured, such as a camera or phone. There is also a handy internal mesh pocket for stashing climbing gloves and food or liquid on the belay, which has proved a great feature.
As ever the attention to detail on the Arc'teryx Alpha SV is outstanding, the stitch count is very high and all stitching has micro seams to keep you dry. The stitching is just about invisible and the all the cinch cords are hidden well away. The reflective, embroidered Arc'teryx logo is a nice feature and the Gore-Tex logo is colour coded on the arm. The Arc'teryx Alpha SV ouses premium product and looks it too, I've been testing the Rhodes Green jacket and everyone I've met has commented on it: a real head turner.
Much is made of the redesigned Storm Hood on the Alpha SV. It's easily big enough to fit even the bulkiest of helmets and although it's easy enough to adjust on the route, I found it best to make adjustments to it depending upon the activity. Adjustments are made using the rear head and neck cinch cord and two well hidden front adjusters, they are easily released using the hidden fasteners. There is further adjustment in the neck and this proved very useful in making the Alpha SV a true, bombproof weather resistant jacket. The hood is indeed an excellent hood and once adjusted I had full 180° visibility and the it never rode above my helmet. The brim is laminated and not wired but they never have been - I will be commenting more on the hood as the season progresses as the winter has been slow to start here in the UK.
In conclusion, the Arc'teryx Alpha SV deserves it's title as the flagship Alpine jacket of the Arc'teryx range. The excellent and well thought out features shine through as a jacket that has been designed by Alpine climbers for Alpine climbers. It's not the lightest jacket out there but it is the burliest jacket I have and is my go to jacket for Scottish winter and working on rainy days (which is more than I'd care to admit!). It still retains its status as an iconic hardshell and if you can afford the price tag you will own one of the most desirable and performance designed Alpine jackets on the planet.
Climbing Gear Reviews are an independent reviewer of climbing, skiing and mountaineering equipment. Fronted by Kevin Avery, a trainee IFMGA mountain guide and former Gear Editor at UKClimbing.com, alongside Yorkshire based MIA Dave Sarkar, they provide completely honest and 100% impartial reviews. Click here to see their page.
Customer Reviews of Arcteryx Alpha SV Jacket
Arcteryx Alpha SV Jacket Review
I had the first generation when I started winter walking and climbing in Scotland.
Over the past 7-8 year I've used varies brands and I can honestly say none of them come close to the SV.
Winters can be very windy, wet and cold. The climbing is generally hard mixed which can involve a lot of grovelling. What ever you choose to wear over your base layers, mid layers has to offer room to manoeuvre, be very durable and be able to keep the wind out. Let's not forget while moving, it want to keep you cool.
This jacket and the the bibs are my No1 choice, they do everything and more. You can't put a price or something you love so much. This jacket makes my sport so much more enjoyable.
Arcteryx Alpha SV Jacket Review
Pauline Flanagan
Verified Buyer
Ordered this Jacket for my husband, couldn't believe how quickly it arrived. The jacket it's self is perfect for winter conditions he hasn't stopped going on about how good it is when out climbing very good price also, couldn't recommend more the quality is second to none.