Description
The Grivel Haute Route Crampons are designed specifically for ski touring. They are lightweight with a hard chromoly steel front section and a light alloy rear with Grivel's Ski Matic bindings.
The 6 points that make up the front of the Grivel Haute Route Crampons are made from hard chromoly steel meaning they are durable and strong; while the rear 4 points are made from a light alloy as they get less wear. The two parts are attached together with a Grivel flex bar meaning overall they are incredibly light yet hard wearing. The Haute Route is easily adjusted via the Mulletta spring at the heel, the weight of the user keeps the spring secure.
The Haute Route Crampons have Grivel's Ski Matic binding which fit modern ski touring boots perfectly however it cannot be guaranteed they will fit traditional mountaineering boots.
Grivel Haute Route Crampon
10 point crampons
Material: chromoly steel/ light alloy
Anti-balling plates included
Easy to adjust by hand
Ski Matic Bindings
Weight -

740g With Anti-balling plates

Size -

One Size Fits All: UK 3.5-11/ Euro 36-45
Pro Review

The Grivel Haute route crampons are a fantastic compromise between lightness and strength. The steel front section fits a ski boot extremely well and are tough enough to climb hard neve or short icy sections. For me, this added strength is worth sacrificing some weight for. Some full alloy crampons are obviously lighter, but feel less secure when on hard snow or ice. Grivels design of combing a steel front section with a alloy rear section is perfect for most ski tours, and the anti-balling plates work well in all but the most soggy of snow (when all anti-balling plates would fail anyway). Light enough to always be in your rucksack, but tough enough to keep you secure when it matters.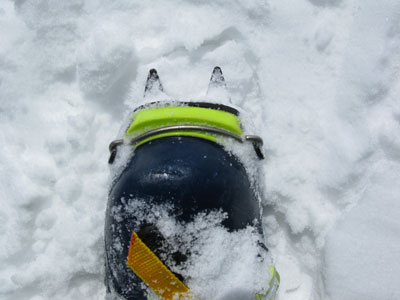 You can find out more about Ben on our Mountain Guides page.
Customer Reviews of Grivel Haute Route Crampon
Grivel Haute Route Crampon Review
Great but beware!
The description says: The Haute Route Crampons have Grivel's Ski Matic binding which fit modern ski touring boots perfectly however it cannot be guaranteed they will fit traditional mountaineering boots. My experience with the Haute Route Crampon on my ~300mm BSL Scarpa Maestrale RS boot is that the walk / ski mechanism interferes with the crampon binding mechanism closing properly. On my set-up the lever does shut but isn't bullet proof; I don't get that reassuring clunk that I get on my Grivel G12s on my mountaineering boots. It seems as though the binding lever could in theory be knocked back, however in reality the binding strap will be secured around the front of the boot and this will hold the binding mechanism in place.
Otherwise a great, light product and for me a pragmatic compromise between a really lightweight alloy crampon and one that can actually be useful in anything other than a really small set of situations (without falling apart).
Grivel Haute Route Crampon Review
Having recently taken up ski touring, I felt that I needed a lightweight, compact but reliable set of crampons suitable for Scottish Conditions. As I don't intend to be doing any mountaineering and I will only use them on my ski touring boots the Haute Routes seemed ideal. They pack up nice and small and are very easy to fit onto my Dynafit boots with the ski-matic fittings. The main reason for picking these was having front steel points for security and rear alloy points for weight saving. Overall very pleased, they have delivered on my expectations on arrival and I hope they deliver the same in the hills. A small point but worth noting - I had assumed they they would come with a crampon bag, but they don't (my fault it doesn't say anywhere that they do).
Grivel Haute Route Crampon Review
Lorne Cameron
Verified Buyer
I borrowed these from a friend while my Camp Nanotechs were away for repair (front point rivets on those were starting to separate).As Andy said below, there is not much usable front point when used with ski boots (in my case, Tecnica Bodacious with touring soles), which seems pretty strange for what is advertised as a ski touring crampon. I only used these in spring snow though, so they were fine for the purpose.Quite a lot of snow balled up in these in the early afternoon, so not sure how effective the antiballing plates are, or if they're worth the extra weight.The all-steel front section is a great design and is a good compromise between weight and durability.Overall weight is excellent but not quite as light as my Camp Nanotechs.Pack-size is quite good, but the non-hinged front bail means they don't pack as small as some others.heel adjustment is good, but I'd prefer a clip on the webbing rather than threading metal loops.
Grivel Haute Route Crampon Review
Andy Dines
Verified Buyer
Great bit of weight-saving kit that I have been using this year for ski touring.I make them 660g on my scales with anti-balling plates which is 400g lighter than my regular crampons.
Only the Camp offerings are lighter but these are worth the little extra weight for the steel front points and general increased robustness I reckon. Also, like all Grivel crampons they pack down really neatly and hardly take up any room in your pack.
More than capable on hard snow and neve and feel beautifully light on your feet (and in your pack where they often remain!) Not used them on anything really icy but sure they would handle some easy ice OK - if you plan to be bashing up icy goulottes then you will probably want something beefier.
Attachment system is good - only slight downside is that there is not a great deal of front point clearance with my Garmont Radiums. They have plenty clearance on my GF's Scarpas.
Grivel Haute Route Crampon Review
Tim Langmaid
Verified Buyer
This touring crampon has been designed specifically to fit touring ski boots and does so perfectly on my Scarpa Skookum boots.It is important to note that they will NOT fit a mountaineering boot as the toe bale is too narrow (I experimented on a Scarpa Mont Blanc).Whilst they could be lighter, the steel front section gives excellent durability and the integrated anti-ball plates work well without adding bulk or significant weight.The toe bale / heel clamp style means that they can be packed smaller than some of the more complex designs available.
If you buy a pair, just check that the heel clamp does not impede the forward and backward movement of your touring boot's upper when in walk mode.You may need to trim the length of the connection bar if your boots are size 25 (mondo) or smaller.